Office Hours
| | |
| --- | --- |
| Monday - Wednesday | 8am - 4:30pm |
| Thursday | 11am - 6pm |
| Friday | 8am - 12:30pm |
Please note that the application process will take 30 – 45 minutes.
See the Official 2023 Fairfield Township Trustee's Standards
Apply Online
Printable Application
If you are having trouble with the online application, please print and fill out the application below.
Download Application Form


Prerequisites:
1. You must meet the Township's income guidelines.
These guidelines are reproduced in the table below, and can also be found in the Township Eligibility Guidelines linked above.
| Number In Household | Maximum Net Monthly Income (Less Than) |
| --- | --- |
| 1 | $1,699.00 |
| 2 | $2,289.00 |
| 3 | $2,879.00 |
| 4 | $3,469.00 |
| 5 | $4,059.00 |
| 6 | $4,649.00 |
| 7 | $5,239.00 |
| 8 | $5,829.00 |
Fairfield Township will use 150% of the Federal Poverty level as its guide in determining eligibility. In utilizing this table for a household with members in excess of those listed above, a sum of $393.00 will be added for each additional household member.
2. You must reside in Fairfield Township.
A map of Fairfield Township is below, you can also check your address on Beacon to determine if your home address is a part of the Township.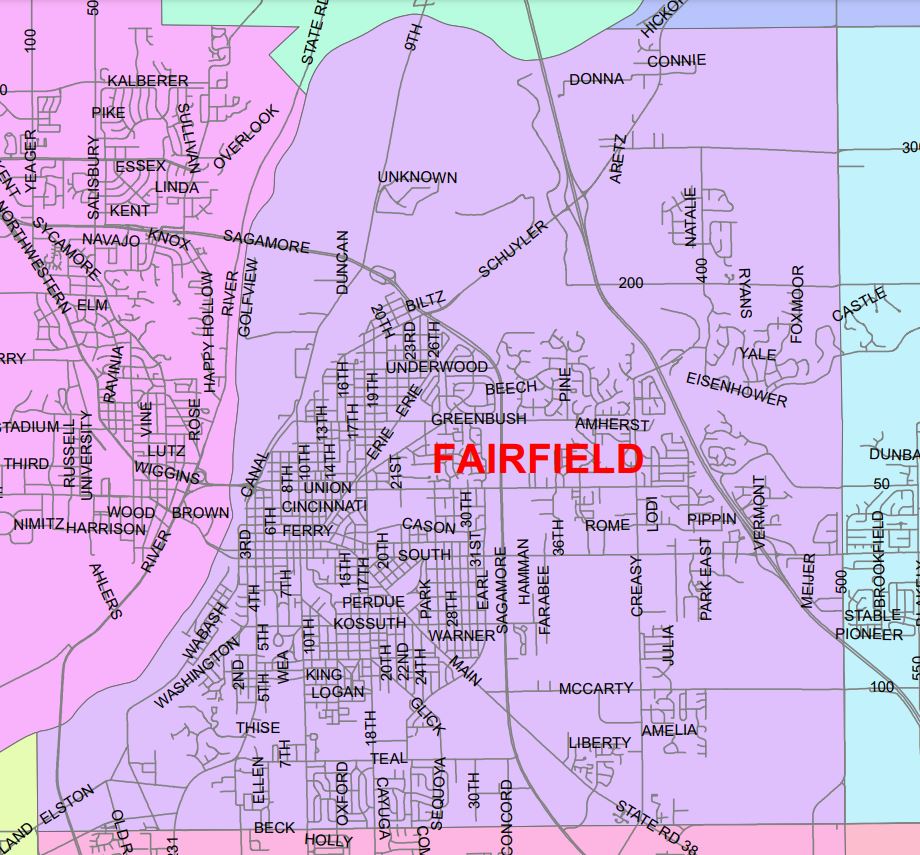 3. You cannot be in eviction proceedings.
4. We only assist with the current month.
What To Bring:
Bring the following information to the Fairfield Township Trustee's Office to complete the application process:
Indiana Driver's License or Picture ID for each household member 18 years of age or older (all adults must be present at the time of application).
Birth Certificates for each household member.
Social Security Cards for each household member or printout from the Social Security Office (10 S 2nd St).
Completed Application - either completed online or printed and filled out via the PDF or links above.
Utility bills (phone, cell phone, cable, satellite, internet, gas, electric & water/sewage) Most recent of each.
Request for Earnings Information - last 30 days.
Child Support: file for/payments received or payments made for the last 30 days (print-out from county clerk).
Social Security Income - SSI or SSD application/amount receiving/status & printout on all Direct Express cards.
Shelter Verification Form or Mortgage Agreement.
Landlord Lease or Current Mortgagee coupon.
Activity Report: on all checking, savings & any online banking aps.
Unemployment eligibility or denial from Work One.
Job Search Sheet verifying application for 5 jobs.
Verification of employment - form provided.
TANF (Temporary Assistance to Needy Families) (AFDC) application or print out for the last 90 days.
Food Stamp/Medicaid application or print out for the last 90 days. Must include listing of all household members.
We'll want to know if and what agencies referred you to us for assistance,
Energy Assistance (Area IV) apply & provide copy of application and amount of assistance received.
Physician's statement of medical status - form provided.
Workman's Compensation - if applicable, file for, provide either acceptance or denial.
In summary:
A signed, current lease for the residence in which you currently reside or a mortgage coupon;
Copies of all current utility bills;
Indiana picture ID or driver's license for each adult 18 years or older in the household (All adults must be present at the time of application.);
Social Security Cards for all members of the household, adults and children; and
Birth Certificates for all members of the household, adults and children.
Proof of employment or alternative status.
Records of other assistance received from area agencies.
Once eligibility for application is confirmed and the appropriate paperwork is assigned, the applicant will be scheduled for an interview with one of the Trustee's case managers. Typically, the township will make a final decision within 72 hours after all documentation requested has been received.
Provided the applicant(s) supplies all the requested information in a timely manner, a final decision will be made in seven to ten working days.* All decisions are based on the information provided and the Fairfield Trustee's Township Assistance Standards. (A copy of the Standards is available at all times in the Fairfield Township Trustee's Office lobby or on the township's website.)
Assistance Opportunities Include:
The current month's rent (past month's rent cannot be addressed);
Electric, gas or water bills that are in disconnect status;
Burial assistance, when no other means of payment is available.
PLEASE NOTE: Completing the application process does not guarantee assistance.
* Emergency situations will be taken into consideration and addressed as quickly as possible.